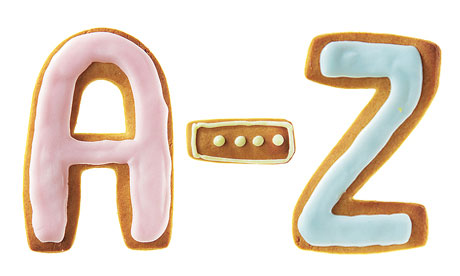 As I was banging on about on Twitter for a while, we were due to move house yesterday We didn't, for reasons that relate largely to many less competent members of my profession. We were, however, told that we would be moving back on Monday so we diligently spent last weekend and most of our evenings this week packing and dismantling furniture. Which leaves us sat in a house that is packed up (thank GOODNESS for Colin the eReader, who has SAVED me from having no books at all), wondering if we're going to have to unpack again this week. So obviously instead of writing one of the many,
many
reviews I still have to write, I'm following in
Laura
,
Hanna
and Ellie's f
ootsteps and filling out the
A to Z Bookish Survey
that seems to be doing the rounds at the moment. Pleasantly distracting and stops me from just staring at the boxes and binbags…
A

uthors you've read the most books from
According to Goodreads, it's a tie between Robert Jordan (author of the Wheel of Time series) and Charlaine Harris (author of the Sookie Stackhouse series) at 11 books each. I'm happy about Robert Jordan because the Wheel of Time series is fantastic but Charlaine Harris? For some reason that fact disappoints me a bit…
For a person who would have said that I read a lot of series, I am finding this question ridiculously difficult. I think either Shadow's Edge (Book 2 of the Night Angel trilogy by Brent Weeks) or Catching Fire (Book 2 of the Hunger Games trilogy by Suzanne Collins). Both were equally as good as their predecessor and had me dying to pick up the next one.
Magic Kingdom for Sale – Sold! by Terry Brooks. About a man that buys a kingship and all of the silliness that ensues. Perfect for diverting my attention away from my somewhat less than desirable surroundings. If the debacle continues much longer, I'll be buying the rest of the series so that I can continue to inhabit Landover.
D

rink of choice when reading
Haha – I think we're all assuming that I'm capable of reading and drinking at the same time without spilling. I do however have to drink sort of while reading if I'm having a binge so let's say coffee (really strong and black), peppermint tea or water since they're the three things that I drink most often.
E

-reader or physical book
*perches on fence* Both? I tend to split my time pretty equally between the two. I love having physical books in my home but I also love not breaking back carrying those books around all the time. Also, Colin (the Sony Touch eReader) means that I can buy a load of books without Boyfriend knowing, can get some titles from NetGalley and can borrow books from my library without having to go out in the rain. ALSO Colin means that I can go on holiday with HUNDREDS of books instead of just the ones that I can hide in amongst my clothes while Boyfriend isn't looking. So maybe I prefer Colin overall, actually…hmm…
F

ictional character that you probably would have dated in High School
Hanna totally gave the answer that I wish I'd written – I'm not really into the whole "book boyfriend" thing either and the characters that I like now would NOT have been appropriate for High School me.
G

lad you gave this book a chance
I'm going to pretend that says "Gave this book another chance" and say Dracula by Bram Stoker. I first tried to read it when I was about 7 and spent the rest of my childhood absolutely terrified of vampires. I read it again last October and was surprised by how much I enjoyed it. Yes, it's pretty creepy but it's wonderfully atmospheric and enjoying it felt a little bit like vanquishing a demon of my own (but in a less melodramatic manner).
If we're talking really hidden, I'll say
Bridge of Birds: A Novel of an Ancient China that Never Was by Barry Hughart. Honestly, it's probably one of the most random books I've ever read and it makes me a bit sad that barely anybody has even heard of it. If we're going a bit less out there, Dark Matter by Michelle Paver is an amazing thriller that is PERFECT for the long, dark nights coming up!
I

mportant moment in your reading life
Other than learning to read by myself in my head? This blog. There are few places that I would feel comfortable in rambling on (and ON) about books and I can't think of any other way that I would have made so many friends purely on the basis of a mutual love of all things bookish. Less profoundly, growing up and learning not to be embarrassed about being seen to enjoy fantasy or science fiction.
The Rithmatist by Brandon Sanderson, which I really loved. I own a lot of Sanderson's books but hadn't read any before. I love how much thought has clearly gone into the magic system and it makes me really excited about reading some of his adult fiction. Plus, I really, really want to finish the Wheel of Time series that Sanderson ghost wrote the final few books of after Robert Jordan died. Ghost wrote? Is that right? Because it looks weird…*shrugs*
K

ind of books you won't read
Definitely misery memoirs. To be honest, I'm not really that big on any autobiographies at the best of times but ones about abuse? No, thank you. Also, self help books are a no.
I think The Pillars of the Earth by Ken Follett at a wrist-straining 1,088 pages. It also happens to be one of my favourite books.
M

ajor book hangover because of…
N

umber of bookcases you own
Currently two. Because of the "yes, you're moving – pack"…"NO MOVE FOR YOU" thing, they're empty at the moment.
O

ne book you've read multiple times
I suppose technically Dracula by Bram Stoker but otherwise, none? There are a lot of really great books that I'm dying to read and I always think of the books that I won't get to read because I'm re-reading. I talk about re-reading favourites all the ime and I am SO CLOSE to deciding to re-read the Wheel of Time series before I read the final few books but I just don't tend to re-read.
Wherever I happen to be when I have some time to read. I love reading while travelling and on Saturday and Sunday mornings in bed especially but otherwise anywhere suits me. I'm not quite as good at blocking out background noise as I used to be but I'll still pick up my book if there's even a slight chance that I can get some reading done.
I've only really started noting down quotes recently so I can't point to anything particularly profound…I do really like this quote though from HHhH by Laurent Binet, which is inspirational in the context:
"When I watch the news, when I read the paper, when I meet people, when I hang out with friends and acquaintances, when I see how each of us struggles, as best we can, through life's absurd meanderings, I think that the world is ridiculous, moving and cruel. The same is true for this book: the story is cruel, the protagonists are moving, and I am ridiculous"
I can't even imagine what I could regret about reading…
S

eries that you started and need to finish
WHEEL OF TIME! Who knew that this series would be the theme of my whole bookish survey?! I read The Eye of the World when I was about 12 or 13 and steadily worked my way through the series during the rest of high school. When I finished what was released, I sort of lost track and even though I own all but the final book, I've only read up the eleventh (out of 14). I feel as though I owe it to my teen self to see out the series but it's a sprawling epic fantasy and I'm worried that I won't remember enough of the details to do the final three books justice. Hence the ponderance of the re-read. Less urgently, the Percy Jackson series by Rick Riordan (because they're fun and I sense dark times to come…) and the Curse Workers series by Holly Black (because the first, White Cat, was really good).
T

hree of your all-time favourite books
Gosh, this question is TOUGH! I'm going to just write the three that come to my head first because every time I give an answer to a question like this it's different and otherwise I'll be here all day:
1. The Handmaid's Tale by Margaret Atwood
2. The Pillars of the Earth by Ken Follett
3. The Song of Achilles by Michelle Miller
U

napologetic fangirl for
I honestly can't think of an answer to this question! How is that possible?! Sorry, friends…
Very excited for this release
I tend to read a good few months (years) behind the whole book blogosphere so I'm not usually hanging on for new releases but I really want to know how the Divergent trilogy by Veronica Roth ends and also the Blood of Eden series by Julie Kagawa.
W

orst bookish habit
Finishing everything I start. I only remember putting aside one book in the past few years and that was because I was really mad at it and about it and I was barely a quarter of the way through it. My general feelings on reading are that life is too short to spend any time not enjoying it. And YET I feel as though I'm quitting on something if I put something aside. I would love to say that will change but it probably won't.
X

marks the spot! Start at the top left of your shelf and pick the 27th book
I can't even begin to answer this since my books are all safely stowed away in boxes. Super…
Y

our last bookish purchase
Erm…an eBook copy of Little Face by Sophie Hannah. I finished the most recent in the vaguely connected Spiller CID series and loved Hannah's sense of humour so I figured I'd go back and start at the beginning!
Zzz snatcher- which book kept you up way late?
I am VERY keen on sleeping plenty each night so that I'm not cranky at work but I put my usual early bed back a good hour to finish The Rithmatist by Brandon Sanderson because I really couldn't not see out the ending.