I think I've mentioned in passing over the past few months that Boyfriend and I are looking at moving house soon. Our house is perfectly lovely but we're looking for something a little bigger. We've found what we hope will be our next home but since finding and actually buying the right house is not always the most fun experience, I've taken to alleviating the more tiresome aspects by casually browsing the internet for interior design ideas. And by "casually browsing", I do of course mean downloading multiple apps (Houzz is my current favourite…) and obsessively poring over pictures of things that I probably won't be able to afford.
But Charlotte, you're no doubt crying, what is this rambling doing on your book blog?! WELL, as the house will have more spare space than our current house, Boyfriend has agreed that I can have what I have taken to calling in a Reading Room. Which is my dorky way of acknowledging that we won't have the space for an actual library but that there will be a whole room dedicated to books and reading.
Over the next few months, I'll be posting random ideas for said Reading Room, which initially will mostly consist of pretty pictures but may well later document the actual creation of the room itself. Feel free to chip in with things I'm missing, sites I should be checking out and general wisdom. I am no interior designer and
am definitely not of a practical persuasion so once the fun colour-picking part is done, prepare for some swearing about flatpacks and other such nasties.
For the picture-based posts of the next couple of months, I'm going to try and lump my ideas into themes. So let's start with this week's theme…
THE FAIRYTALE LIBRARY
Like many a feverish reader, slightly musty smelling rooms filled with ancient tomes and almost as ancient armchairs are my nirvana. There is nothing quite as soothing as stepping into a vaulted room filled floor-to-ceiling with books and either wandering amongst the shelves and hunting out new treasures or sitting in the hush and getting lost in another time or place. Were money no object, I'd create something as awe-inspiring. Something that gives people that peaceful feeling that makes them feel as though they just want to light a fire and curl up…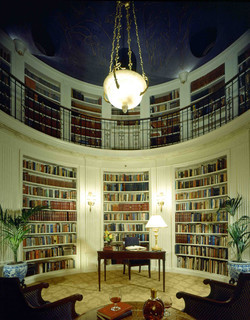 I actually suspect that the middle picture isn't actually a library but a big open space with wallpaper to make it look like a library. For these purposes, we're imagining that they are real books and I could wander around on that mezzanine floor. Much though I know that my current preference is for something light and airy, if I had a bigger space available, I'd be going for the top one.
Seeing as we've already established that I'm not a millionaire, I'll be looking at taking little things from the fairy-tale library of my dreams and incorporating them into my actual room. One of the things I love the most about this "style" of library is the feeling of being surrounded by books and I think that's created by having a number of wall-to-ceiling shelves. So I think that's the idea that I'm pinching from the fairytale libraries of my dreams (except without the ugly chairs…):
1) Floor-to-ceiling bookshelves
Next week: Duck Egg Chic